Quora has proven itself a valuable source of knowledge, not only in online marketing, but across so many different categories. Now, the platform is finally hinting at its plan for revenue, having launched Quora Ads earlier this year.
As an advertising platform, Quora is young and far from feature-rich. But the audience it attracts and the targeting available is very interesting to potential advertisers. Anytime you have a website where people spend time reading, learning and thinking about relevant subject matter, advertisers want to be there. These are the traits of a highly engaged audience.
As a digital marketing agency, Clever Zebo has spent some time experimenting with the Quora advertising platform, and we wanted to share what we've learned so far. Here are some of the most important optimization strategies and tips we encourage Quora Ads advertisers to consider.
1.  Always split desktop vs. mobile
When you start optimizing Quora Ads, you'll soon notice there are no device-level bid adjustments.
In cases like these, we usually recommend that you create separate campaigns for each device in order to give yourself maximum control around bids.
In some cases, desktop bids can be twice as demanding as mobile bids, depending on the audience you're targeting.
If you don't break up campaigns by device, you may find yourself bidding too high on mobile and paying more than you need to, or bidding too low to attract any significant volume of desktop users.
Quora provides a useful bid estimation tool, displaying a cost-per-click range and a suggested bid according to the platform's best estimate. You can see how the desktop and mobile bids differ below.
Mobile bid estimates
Desktop bid estimates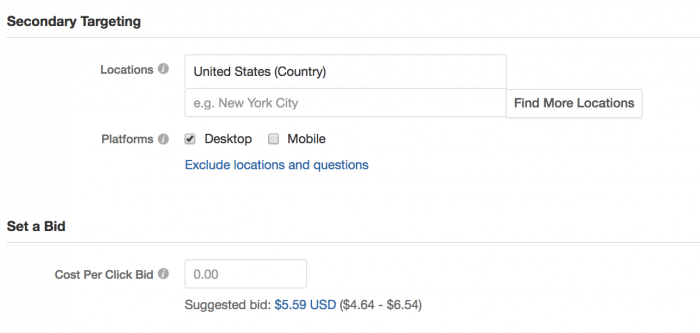 2.  Granular targeting, low volume
Quora Ads allow for very granular targeting and we usually end up seeing an efficient cost per acquisition (CPA). However, when it comes time to scale our campaigns, we've found there is often limited volume available to grow.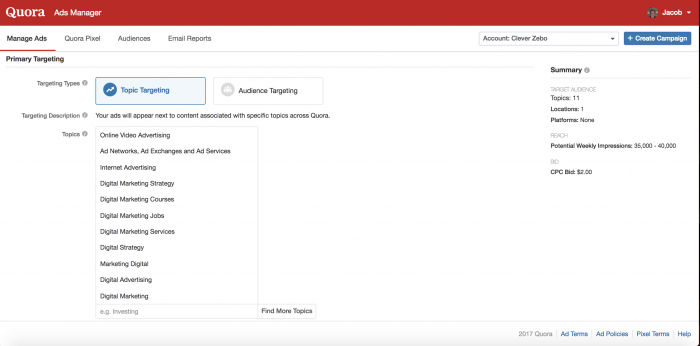 Tip: Quora also has a handy reach estimation tool, which you can view on the right hand side of the screen while creating your ad set, as pictured above.
3.  Import keywords from your Google AdWords campaigns
An effective way to quickly build your list of topics for targeting on Quora is the AdWords keyword import.
We recommending using this tool to gather topic recommendations and increase the reach of your campaigns.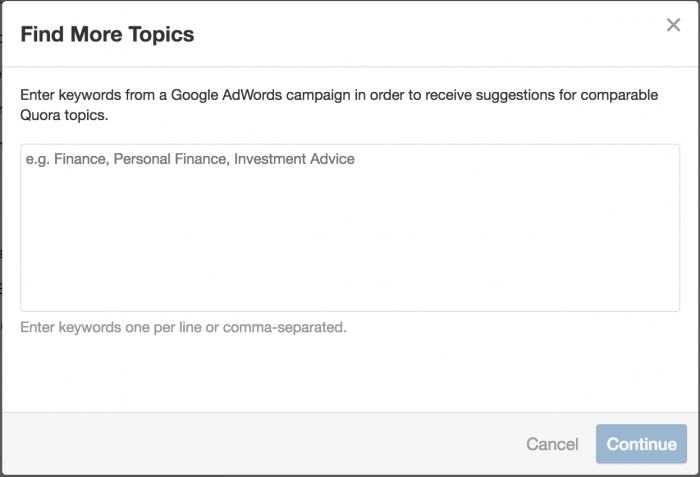 4.  Remarketing
Remarketing is a useful feature to explore in ad platform that offers it. Quora Ads allow you to install a site-wide pixel (to be placed between the between the <head></head> tag of your website), and using this pixel you can create your remarketing audience under the 'Audiences' tab.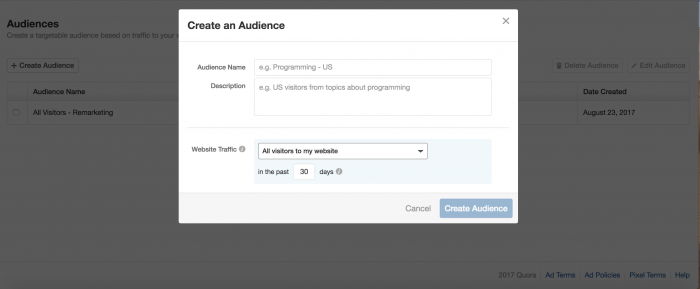 Quora has some more granular options that can be leveraged for audience building, to create multiple segments:

Tip: You also have the option to exclude audiences (for example, some businesses may want to exclude those who already converted).
5.  Copy limitations
You'll find that Quora Ads have stricter copy guidelines than other ad channels, and you may face ad disapprovals if you don't adhere to their ad copy policy.
These are some of Quora's ad copy restrictions to be mindful of:
Too much capitalization (you can't capitalize the first letter of each word, as you would likely do in Google AdWords)
Incomplete sentences (you must write your ad in sentence form)
 'Misleading' copy/claims (superlatives such as '#1 provider' or 'top firm' are not accepted)
Abbreviations are not accepted (LMS must be spelled out as 'learning management system')
When you create ads on Quora's platform, here's what the ad builder looks like: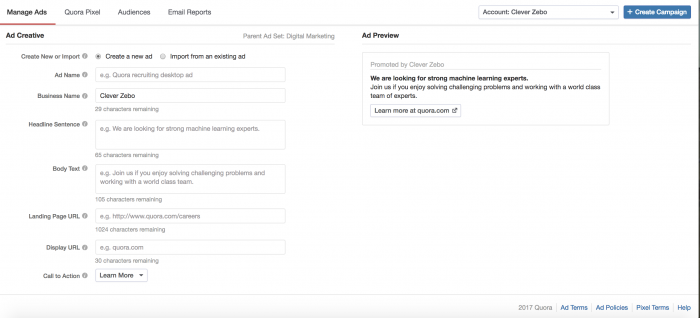 Tip: Add a relevant call-to-action (CTA) for best results.
6. App install campaign
Quora offers an 'App Install' objective, with conversion tracking through third-party mobile app measurement tools such as AppsFlyer, Adjust and others.

Here, you're working with the same granular targeting options and ad copy specs as 'Conversion' campaigns, with the addition of a 'Get the app' CTA. Unlike other Quora Ads, app install campaigns don't feature a Display URL.
If you have a mobile app to promote, this is a great sandbox to test your acquisition efforts.
Overall, we've been impressed with the Quora advertising platform in its infancy. The ad creation process is well thought-through, and the advertising on the site doesn't distract from the core learning functions that have brought visitors flocking to Quora.com.
You're likely to see advertisers getting increasingly clever with their approach in order to create relevance. For example, Wishpond phrases their ad headline below as a question, mirroring the organic site experience:

You can see TrenDemon below using the same strategy, which suggests that perhaps framing your ad as a question can improve clickthrough rates:

Quora gives advertisers the tiny but meaningful benefit of a "Promoted by" callout in advance of the ad, which announces that this is a sponsored listing, but also creates some light brand awareness. As with other ad platforms, "Free" is still a popular sell to lead with.

What do you think of Quora Ads so far? Let us know on Twitter @cleverzebo.
Looking for a marketing agency to help you test Quora Ads and find the right digital advertising strategy for your business? Talk to a marketing genius today.