Over the last ten years, native advertising platforms have steadily grown, now owning more than 50% of the digital display market. You've probably heard of the two largest independent native advertising platforms: Outbrain and Taboola.
The question a lot of marketers have is: can Outbrain or Taboola be an effective ad platform for my business?
Much has been written on this topic, but ultimately it's clear that some companies have been shrewd enough to extract valuable leads and sales from this relatively fresh marketing channel. This post aims to explore how to build and optimize native content campaigns effectively on Outbrain and Taboola, and to look at some key differences that distinguish the two platforms.
Where do Outbrain and Taboola Ads appear?
If you've seen "related articles" beneath content you've read on the web — often with thumbnail images and sensational-seeming headlines — this is where Outbrain and Taboola play. Sometimes you can spot the company's footprint above this section of related content.
It looks like this: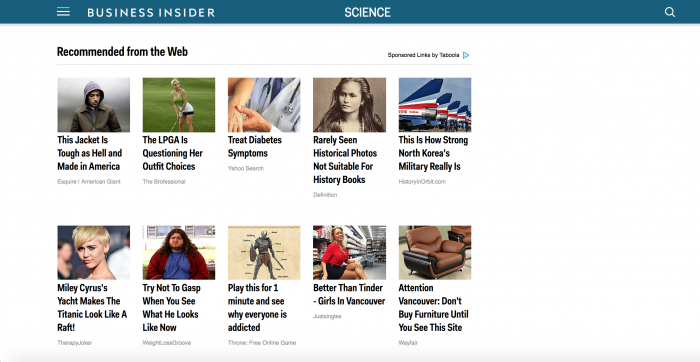 Pricing and bid flexibility
Both Taboola and Outbrain offer native advertising placements on a cost per click (CPC) basis. Outbrain allows bidding in $0.01 increments and offers excellent visualization tools for estimating traffic volume and daily costs based on bids, targeting, and your campaign's clickthrough rate (CTR).
Taboola allows for bidding in $0.001 increments and, once a campaign is active, allows buyers to modify those bids up and down, at a site level, as much as 50% of the baseline CPC bid. This is not an optimization feature that Outbrain offered at the time of writing and, while it may seem like a small difference, for direct response advertisers, the added flexibility around bidding and optimization can have dramatic results on cost per acquisition (CPA) outcomes.
Publisher-level bidding and optimization is a huge advantage of Taboola over Outbrain.
Quality and performance
When reviewing Outbrain and Taboola performance side by side, looking at the specific websites where your content appears, you will notice a marked difference in the brand recognition of the publishers that work with Outbrain. This isn't to throw Taboola's publishers under the bus, but you won't find publishers like Reuters, CNN, Fox News, and The Washington Post working with Taboola. You will see these well-recognized brands and publications in the Outbrain network.
Still, these high-profile publishers can be a double-edged sword. If you are a brand-sensitive company relying on softer success metrics (e.g. traffic and engagement), or a company that generally prefers the name recognition and is willing to pay for it, Outbrain could be the right choice. On the other hand, if you are 100% focused on direct response advertising and return on your investment in the form of sales, Taboola could be a stronger fit for you. Their long-tail network of websites and additional bidding flexibility is often going to yield better CPAs.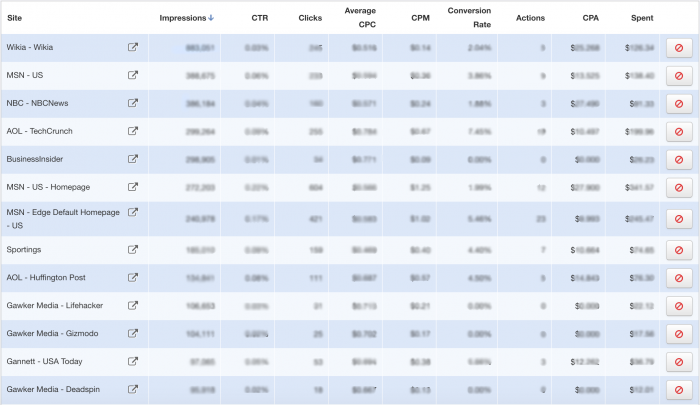 It's worth testing both platforms, but businesses with limited ad budgets should know about this key difference.
User experience
There is a more dramatic difference between Taboola and Outbrain when it comes to the usability of the dashboard. Even though Taboola often performs better for direct response and conversion-focused companies, Outbrain's user interface is faster, more intuitive and better visually organized. It offers more data at-a-glance and provides a much easier-to-use ad builder (they call it "uploading content") that includes import and export features, which save time and improve accuracy. There is also a convenient drag-and-drop interface for uploading new images.
Comparatively, Taboola's user experience feels old. It is difficult to change certain targeting settings and it can be tedious to upload new ads. You cannot see certain ad creative stats and make changes to active ad creatives from the same screen. It can also be difficult to change specific targeting settings at the line item level.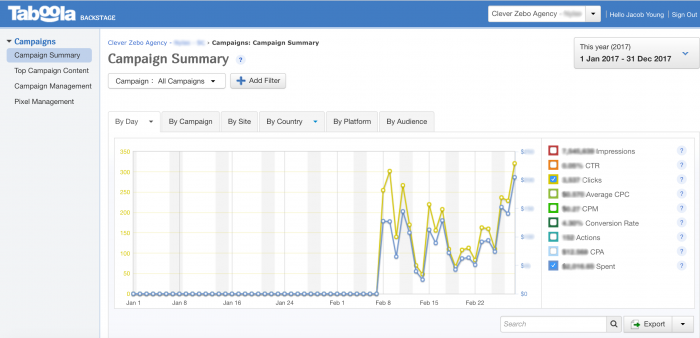 The lack of CSV upload features for ad optimization is a shortcoming of both platforms. Taboola and Outbrain both require a "hunt and peck" approach for optimization. As an agency we're excited to usher in new features that would allow buyers to manage optimization offline or via third party tools, e.g. via Excel, and import via CSV or make changes via API.
Other optimization tips and final thoughts
Perhaps the most critical part of optimizing Taboola and Outbrain campaigns is to build custom site lists. If you are spending more than $20,000 a month on either Taboola or Outbrain, you've probably discovered that 20% of the publishers you buy from are driving 80% of the conversions.
When you build custom site lists, you can focus more spend on sites that perform well and better optimize bids for the 20% of sites that drive the majority of your success. This leaves the non-custom site list line items open for prospecting new sites, and you can bid less on these line items as you no longer need to keep bids high enough to ensure traffic from those best-performing 20% of publishers.
Through careful examination of each publisher broadcasting your ads, and rigorous optimization by publisher, you can make your investment with Taboola or Outbrain super efficient.
Looking for an agency that specializes in content promotion platforms like Taboola and Outbrain? Learn more about Clever Zebo's expertise with Taboola and Outbrain campaign optimization.