As we've studied and delved deeper into conversion path optimization for B2B software and tools, we've noticed as an agency that there are a handful of areas always worth testing.
In this post I'll discuss the art of testing into a more effective value statement, how to toy with guarantees and find one that's appropriate, and what makes a badass signup form that mints money.
These aren't sure to work for everyone, but they are A/B test ideas that we've seen win nicely for B2B software companies, which just might make them worth trying.
1. Can we pack more value into a headline? Websites (and landing pages) often have a key value statement. If someone drops by and reads nothing more, at least they'll read this. We've found it useful to ask: can the value statement communicate more benefit than it does now?
We ran a test to this end on CleverZebo.com and here's what we learned.
There were three variants:
Hands-on marketers who deliver revenue. (Original)
Results-driven marketing that pays for itself. That's clever. (Variant A)
Results-driven marketing that pays for itself. (Variant B)
When you consider the original headline on top, against the winning headline beneath it, there are a few considerations.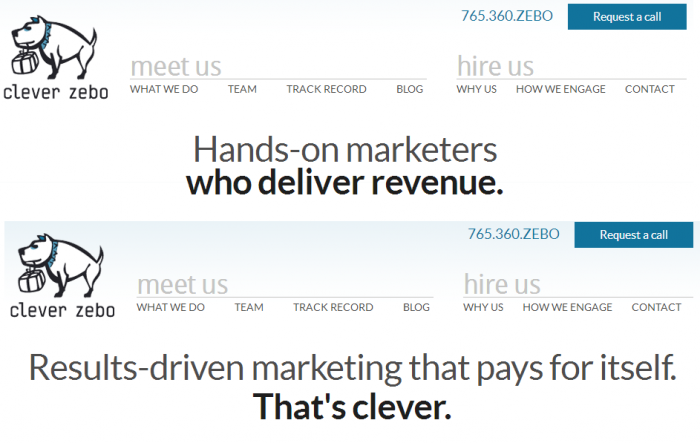 Delivering revenue sounds good to a business owner, but getting results and paying for yourself — being ROI positive as a vendor — is much better.
"Hands-on" describes us as roll-up-your-sleeves marketers who take on real projects, but "Results-driven" goes deeper than that. It tells the business owner not to take our word for it that we're doing lots of work, but instead to hold us accountable for results.
Flipping your value statement is always a strong A/B test, especially when you think through the benefits packed into it from the perspective of your customer.
2. Can we offer a powerful guarantee? Retailers tend to offer guarantees, whether it's a price match or an assurance of quality. Why don't B2B software companies do the same?
There are a few elements worth testing here:
Image / guarantee badge
Guarantee messaging
What happens if the guarantee is not met
If you don't have a designer on hand who can whip up a killer badge for your guarantee A/B test, here is a good resource for decent badges that are free to use.
Our friends at Crazy Egg recently published a useful post on creative and rarely used guarantees that may be worth A/B testing.
Here's a guarantee used by Musement.com, an international travel and tour booking site.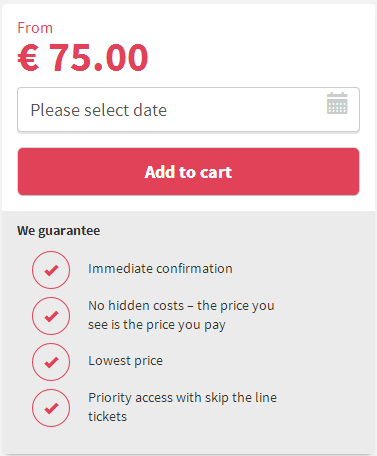 The strengths of this guarantee are that it re-emphasizes the benefits of working with them, it builds trust with the "lowest price" promise and it's specific about what you can expect.
It would be worth investigating whether these promises can be neatly shoehorned into a beautiful badge, and whether conversions rise if the visitor is told what happens if the guarantee is not met.
3. Can we offer more & ask for less in our signup form? Your signup form is important for capturing data, but it's also a sales opportunity. On the signup page, you've yet to close the deal. Instead, it's a critical phase where you must continue to shine. Check out how Box.com addresses this problem.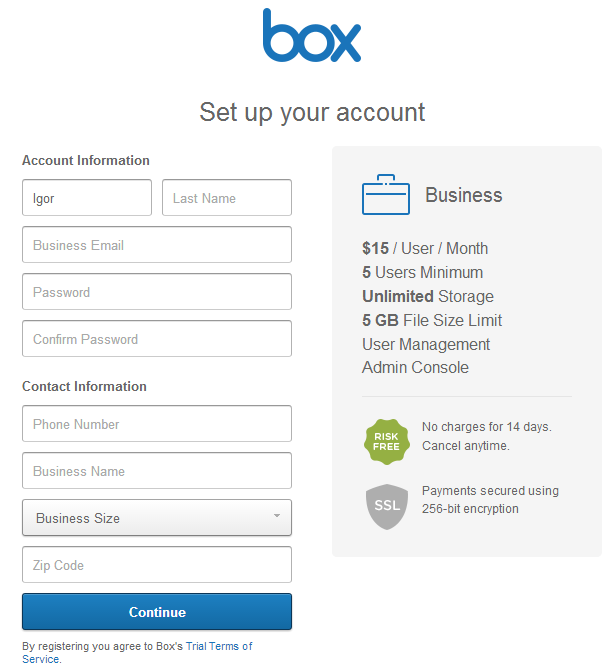 They collect a lot of fields, but they also build confidence through the "risk free" badge and the assurance of security and encryption. They also remind you what you're signing up for: a business account with 5 users, unlimited users and more. They confirm the price on this screen. This is clean and clear-cut.
Box teaches us to test selling alongside the signup process, but also to keep that sale professional, useful and relevant. There's no marketing-speak. It's just the benefits listed as fact.
The other testing opportunity this example recalls is an obvious one: can we collect fewer fields and still accommodate the visitor? In many cases, requiring fewer fields has proven to convert better. So what's most essential?
I once introduced a 2-field signup form solution to a fast-growing B2B software company. That shrank the signup process down from 6 fields and was highly controversial, but when it finally went live, it improved conversion rate by close to 50%. The lesson there isn't just that you should test simplifying your form, but that opinions don't count the way A/B tests and data count.
So do you really need the visitor to create a password, or can you simply email an auto-generated password to make that visitor's upfront investment easier?